Safe Surfer makes it easy to install an effective porn blocker on your home Wi-Fi. Along with protecting your privacy, we also use our behind-the-scenes technology to block porn and other harmful online content. This guide will efficiently walk you through how to install protection.
Before we get started, it's good to know that installing protection on your home Wi-Fi can sometimes be tricker that it seems. Check out our protection apps! These install protection directly on a smartphone or a computer, and are a great way to block porn and other apps, set screen time rules, and monitor the online activity of your loved ones. Otherwise, let's get started!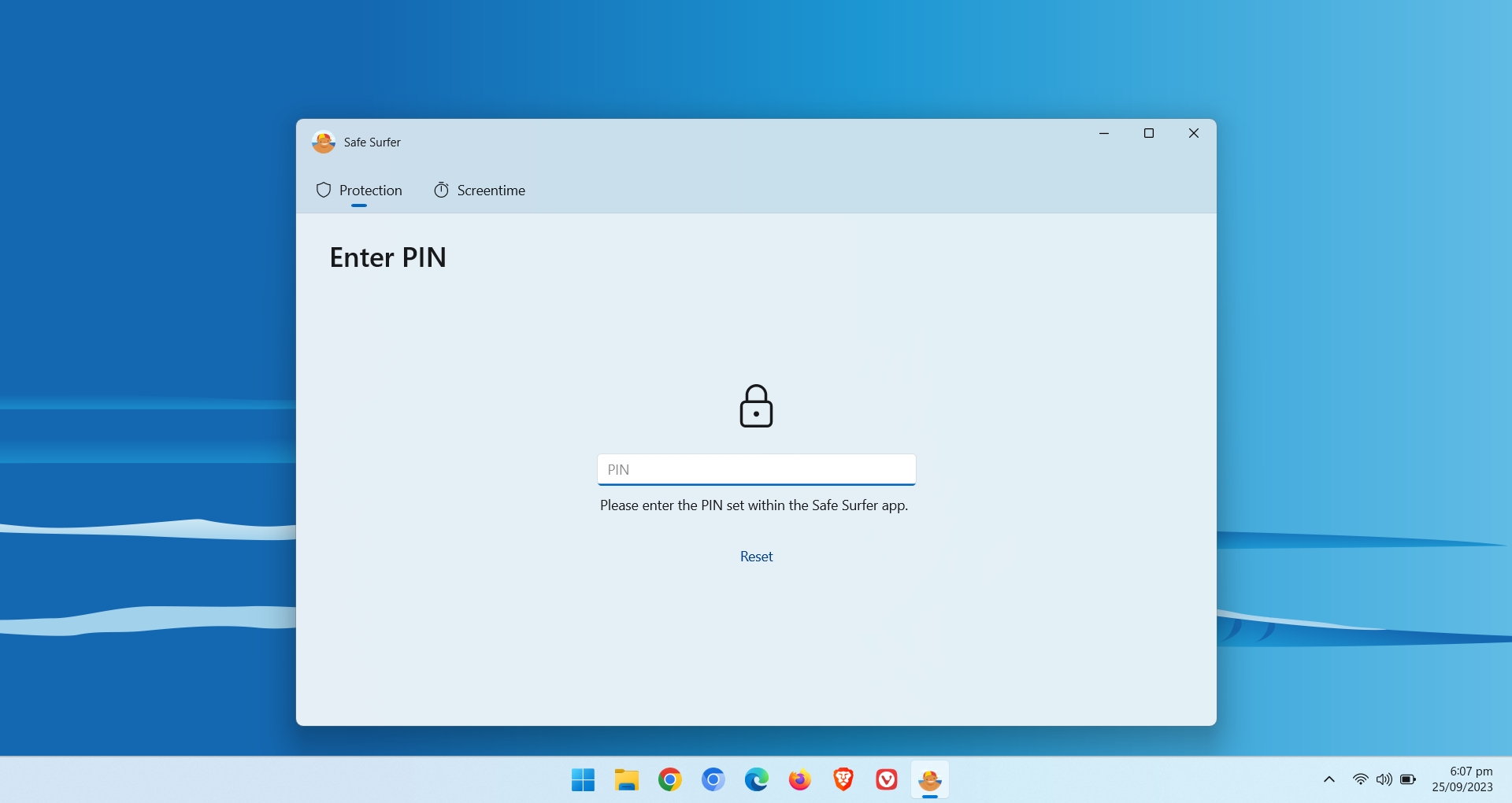 Step 1: Find the login details
We have various tailor-made guides available for modems and routers provided by different Internet service providers worldwide:
Can't see your service provider or manufacturer above? The instructions that follow are the general steps we take to install protection.
Some modern Wi-Fi network brands support changing the network settings from an app on your smartphone. You'll be looking for a menu called "DNS". Otherwise, your home router will likely have the login details printed on a sticker. This sticker can usually be found on the rear or the bottom of the modem. Sometimes these details can be hidden behind a sliding card.

For this particular modem, the login details are the following:
IP address: 192.168.1.254
Username: admin
Password: admin
If you can't find the details, check the user manual. This can usually be found online by searching for the model and its default login details. You could also contact your Internet service provider (ISP) for assistance on how to change the DNS settings on your modem.
Step 2: Install DNS
Open your modem app, or enter the IP address you found into the top search bar of a web browser (such as Google Chrome or Firefox).

Pro tip: If you get stuck, please feel free to open the chat bubble on this page and chat with us! Send us the model of your modem, and we can help you with the following installation steps.
Enter the login details when asked. Once you're logged in, look for a menu related to your router's network—this will likely be called either Internet Connection, LAN, Local Network, or Advanced.

Once you've found the applicable menu, look for an area called either DNS or DHCP Server.

Next you will be looking for a pair of fields labelled "Primary DNS" and "Secondary DNS". If only one field is available, you will need just the primary address.
Primary IPv4 address: 104.197.28.121
Secondary IPv4 address: 104.155.237.225

Once you've filled in the field(s), click the Apply (or Save) button to save the changes. If the modem supports installing custom IPv6 DNS servers, look for the IPv6 menu and use the following addresses. Otherwise, you should turn off the IPv6 features to ensure that our cloud servers work correctly. Later on, if the protection installation doesn't work, try turning off IPv6. Copying the full set of numbers for each address below is necessary.
Primary IPv6 address: 2600:1900:4000:524c:8000:0001:0000:0000
Secondary IPv6 address: 2600:1900:4030:6b9d:8000:0000:0000:0000
Once the changes have been saved, make sure that you restart all the devices that use Wi-Fi at home. This helps make sure that the blocking works immediately on each device.
Verify the protection installation by visiting ExampleAdultSite.com inside a web browser. This is a safe website designated for testing if pornographic websites are being blocked. This site should be blocked. If we're blocking something, you'll usually see a blank connection error page.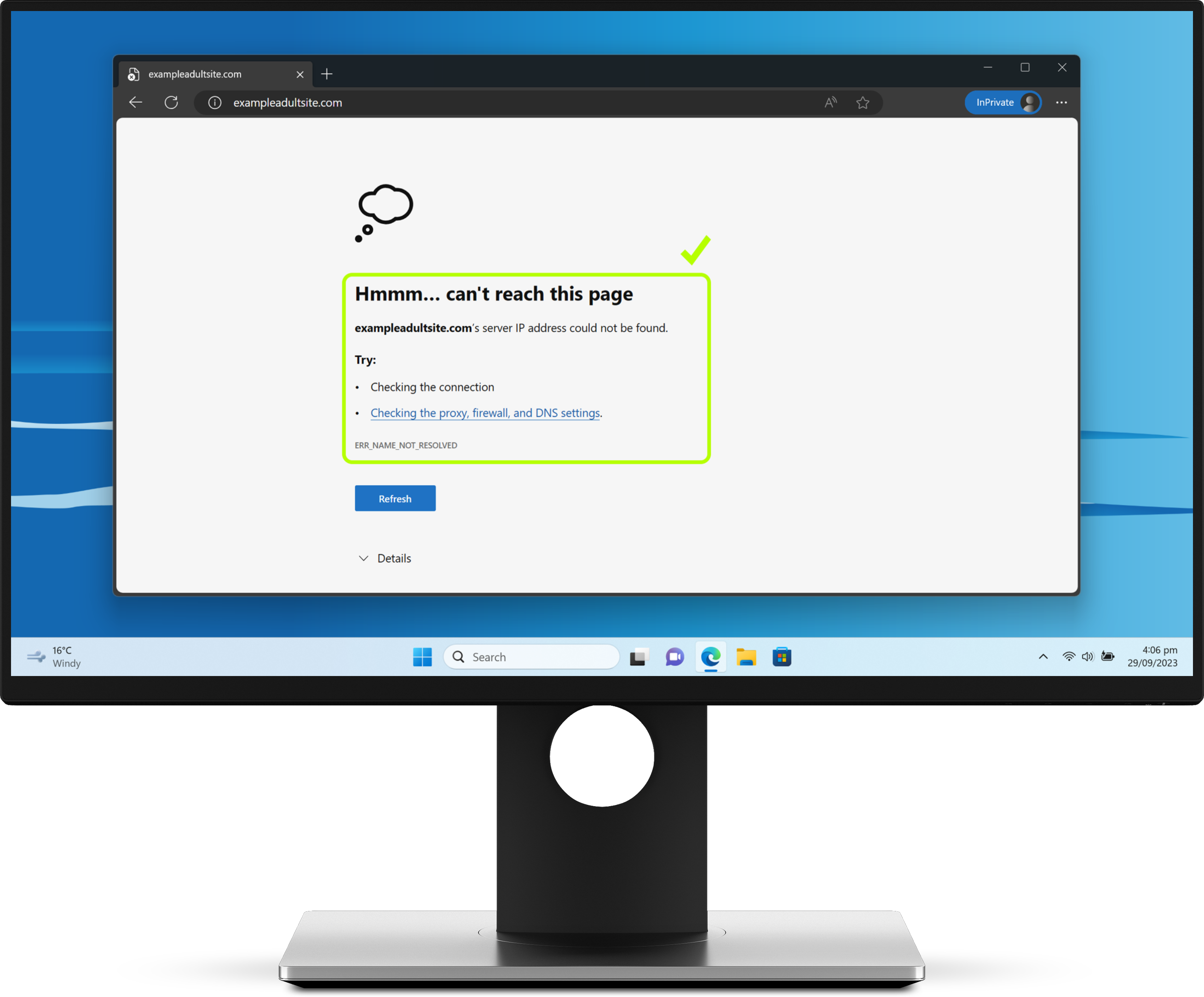 Step 3: Get further parental controls
The Safe Surfer dashboard gives you access to comprehensive parental controls. The dashboard has a feature where you can create custom block rules for your home router.
Pro tip: this feature requires a Pro Surfer subscription and works best when you have a "static IP" (that is, a non-changing public IP address) with your Internet service provider. Contact your ISP on how to get a static IP, or try our easy-to-use apps.
Open the Devices menu (found on the left-hand sidebar) on the Safe Surfer dashboard. Click the "+ New Device" button.

Click Wi-Fi & network > Use my existing router. Enter a name, then click the Accept button.

Go back to the Devices menu and click the Connect button found under the device listing just made.

Click the Plain DNS field, then click the Link button. This will sync any custom block settings.

You can now open the Blocking menu, select the router device from the blue bubble, and block categories. Click the Save button once you're done. These changes might take a minute to sync over.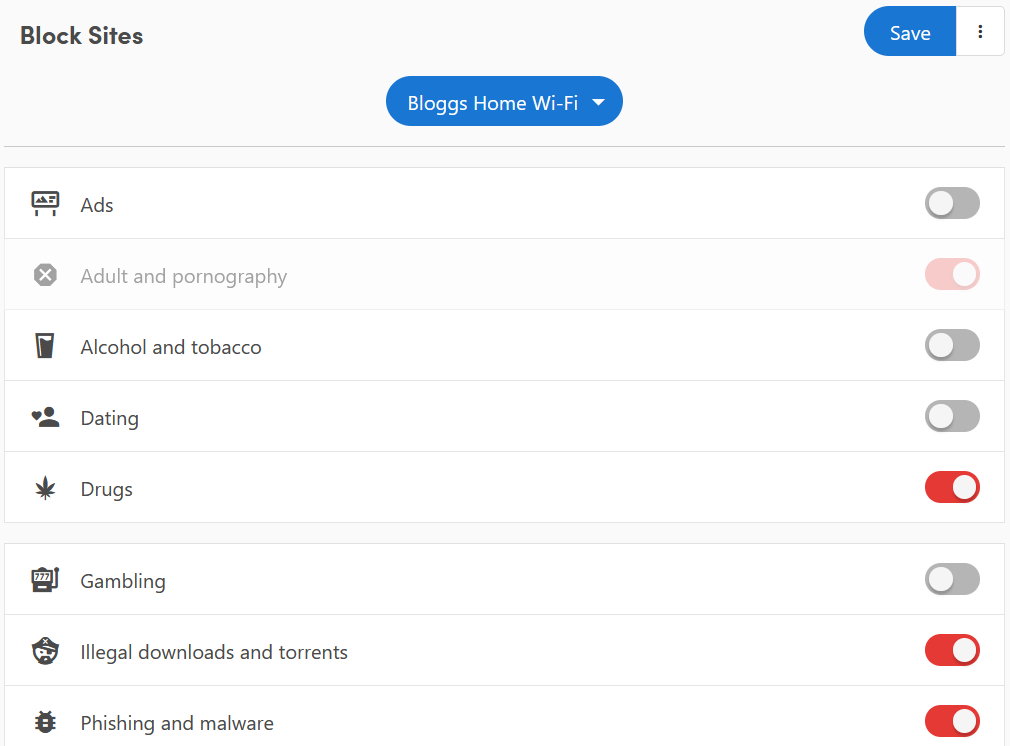 Protection complete
Great work! The devices connected to this home router should now be protected. Visit our easy-to-use online dashboard to start monitoring traffic and blocking content from our premium categories with an affordable Pro Surfer subscription.
The Safe Surfer team works hard to provide families worldwide with the best protection possible from porn. We block hundreds of thousands of pornographic websites through our live database, and our intelligence feeds provide us with the ability to block newly discovered websites on a regular basis for all our users.
If you would like to protect a different kind of device, visit our Guides page.