Want to protect your home router (or modem) from pornography and other harmful online content? You're in the right place! This guide will efficiently walk you through how to do so with Safe Surfer.
If you get stuck, we've developed our apps and Wi-Fi Lifeguard router (featuring speedy Wi-Fi 6 technologies) to help out. If you get a Lifeguard router, it simply plugs in to your pre-existing home router or modem.
Getting started
DNS is like the telephone book of the Internet. Your computer usually talks to a DNS server when you visit a website. For example, the website domain safesurfer.io ends up at the address 34.120.27.165 in the background—you don't usually see this process. We take advantage of this technology to provide you with internet filtering.
Step 1: Check if your router supports encrypted DNS
DNS has come a long way since its inception in 1983! Over the past few years, encrypted DNS methods have been released for the public to take advantage of. We have invested a bit of time in working with these so that we can provide you with a better online surf experience. Let's check if your home router supports this.
Pro tip: most routers manufactured by ASUS and MikroTik over the past several years support installing encrypted DNS. You might like to check with the manufacturer of your router to see if you can use this feature. You might need to update the firmware on your router to make it available.
Check your router for a sticker with instructions on how to connect to it. You'll be looking for an IP address (e.g. 192.168.1.1) or URL (e.g. homenetwork.safesurfer.io), along with a set of credentials (e.g. Username: admin; Password: admin). Once you've found this information, try visiting the IP address by entering it into the top search bar inside a web browser on a device connected to the router. Once you've connected, log in with the credentials you found earlier.
Step 2: Install DNS
Encrypted DNS is better in all cases, but in case your router doesn't support it, we have also included instructions for classic DNS. If you use encrypted DNS, some routers use DNS over HTTPS (DoH), whereas others use DNS over TLS (DoT)—you might need to check the documentation from your router manufacturer. Using classic DNS makes it a lot trickier to install custom block rules.
Encrypted DNS
Navigate to the area of your router containing the settings for encrypted DNS. For example,
On an ASUS router, this would be found in Advanced settings > WAN > Internet connection > WAN DNS setting > DNS privacy protocol [set to DoT] > DNS over TLS server list [set Address to 35.201.2.125; paste dns.safesurfer.io as the TLS hostname; click the "+" icon] > Apply
On a MikroTik router, this would be found in WebFig > IP > DNS > Use DoH server [click "V" button] > paste https://doh.safesurfer.io/ > Apply
Pro tip: want more control over what traffic can come through? Instead of pasting the default link (as above), make a new Advanced device on the Safe Surfer dashboard for full control. Make sure to copy the correct link—DoH or DoT—for your router. You will need to be subscribed to take full advantage of this (for example, blocking categories).
Classic DNS
Navigate to the area of your router containing the settings for classic DNS. For example,
On an ASUS router, this would be found in Advanced settings > LAN > DHCP server > Manual assignment [set Enable manual assignment to Yes] > DNS and WINS server setting [set DNS server to 104.197.28.121] > Apply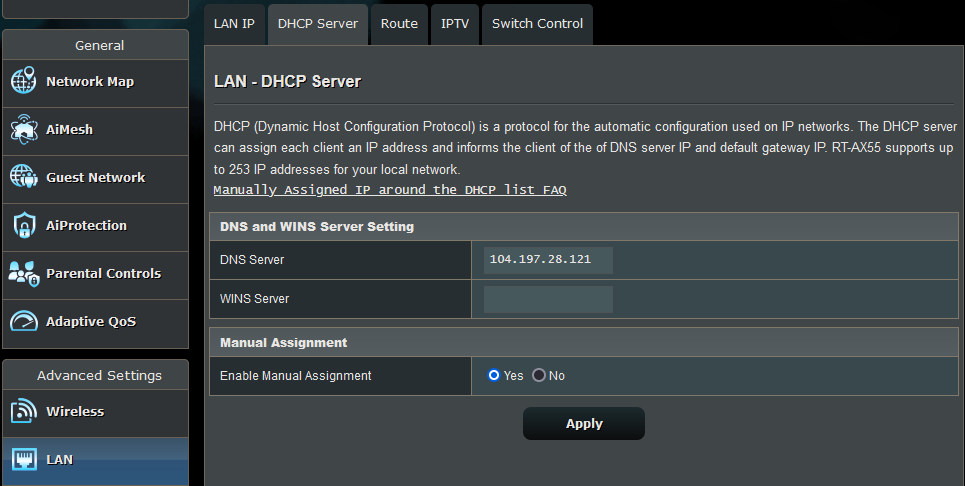 Save the changes you have made—your router might need to restart. These settings should take effect after a device restart (if not immediately).
Verify the protection installation by visiting ExampleAdultSite.com inside a web browser. This is a safe website designated for testing if pornographic websites are being blocked. This site should be blocked.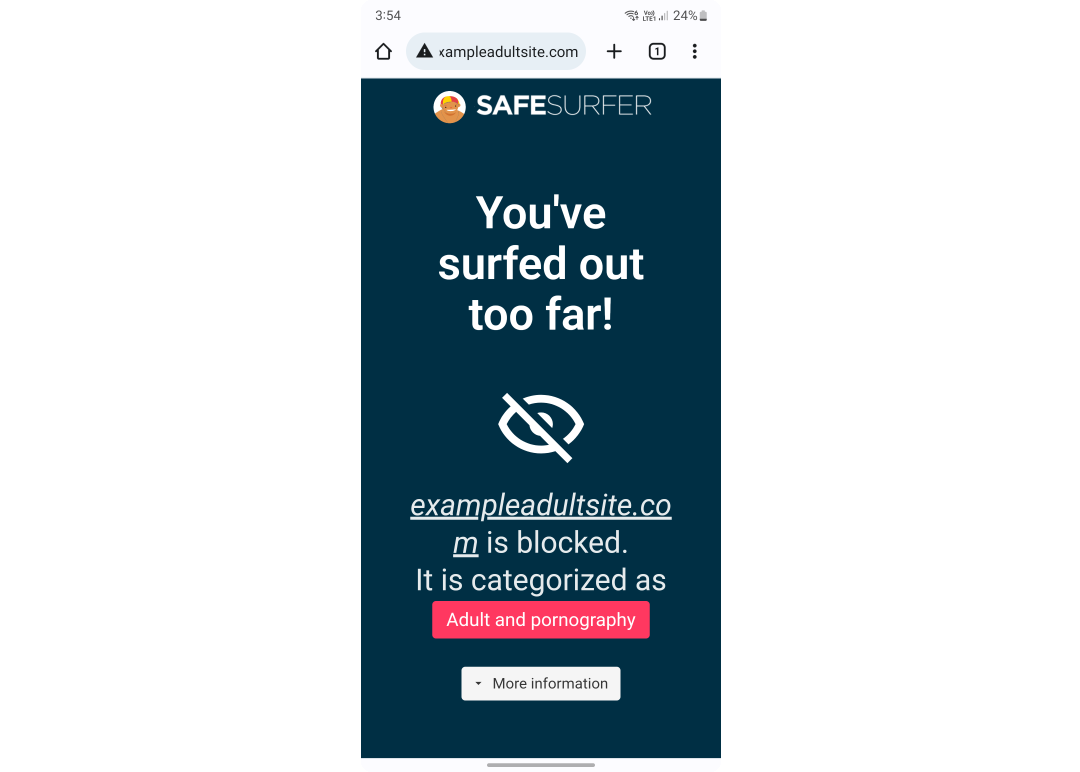 Protection complete
Nice one—the devices connected to this home router should now be protected. If you used a custom link during installation, visit our easy-to-use online dashboard to start monitoring the traffic from this router.
If you would like to protect a different kind of device, visit our Guides page.