It's easy with Safe Surfer to install an effective porn blocker on a MikroTik router. Along with protecting your privacy, we also use our own behind-the-scenes technology to block porn and other harmful online content. This guide will efficiently walk you through how to install protection.
If you get stuck, we've developed our protection apps to help, along with our Wi-Fi Lifeguard router (featuring speedy Wi-Fi 6 technology).
Step 1: Log in to your MikroTik router
Try visiting the IP address 192.168.88.1 by entering it into the top search bar of a web browser—this should be attempted on a device connected to the router. Once you've connected, try logging in with the default credentials (Username: admin; Password: admin).
Step 2: Update the firmware
At the top of the dashboard, click the Quick Set button. Under the System section, click the Check for Updates button. If there is a firmware update available, click the Download & Install button—this will restart your router. After several minutes, once the router has restarted, log in to the router dashboard again. Go back to Quick Set > Check for Updates > Channel and select "upgrade" if the option is available. Repeat the upgrade process as before if necessary. Once you're up-to-date, you're ready to go.
Step 3: Install encrypted DNS (DNS over HTTPS)
At the top of the dashboard, click the WebFig button. On the left-hand sidebar, click the IP drop-down menu. Click the DNS submenu. Click the "V" button found next to Use DoH Server.
Click this link to open the Safe Surfer dashboard. On the left-hand sidebar, click the "Devices" menu. Click the "+ New Device" button. Click "Another PC, laptop, or smartphone". Click "Advanced". Enter a name for the router listing, then click the Accept button. Click the copy button found next to the DoH (DNS over HTTPS) link. Back on the MikroTik router dashboard, paste this link into the Use DoH Server text box. Click the Apply button.

Verify the protection installation by visiting ExampleAdultSite.com inside a web browser. This is a safe website designated for testing if pornographic websites are being blocked. This site should be blocked.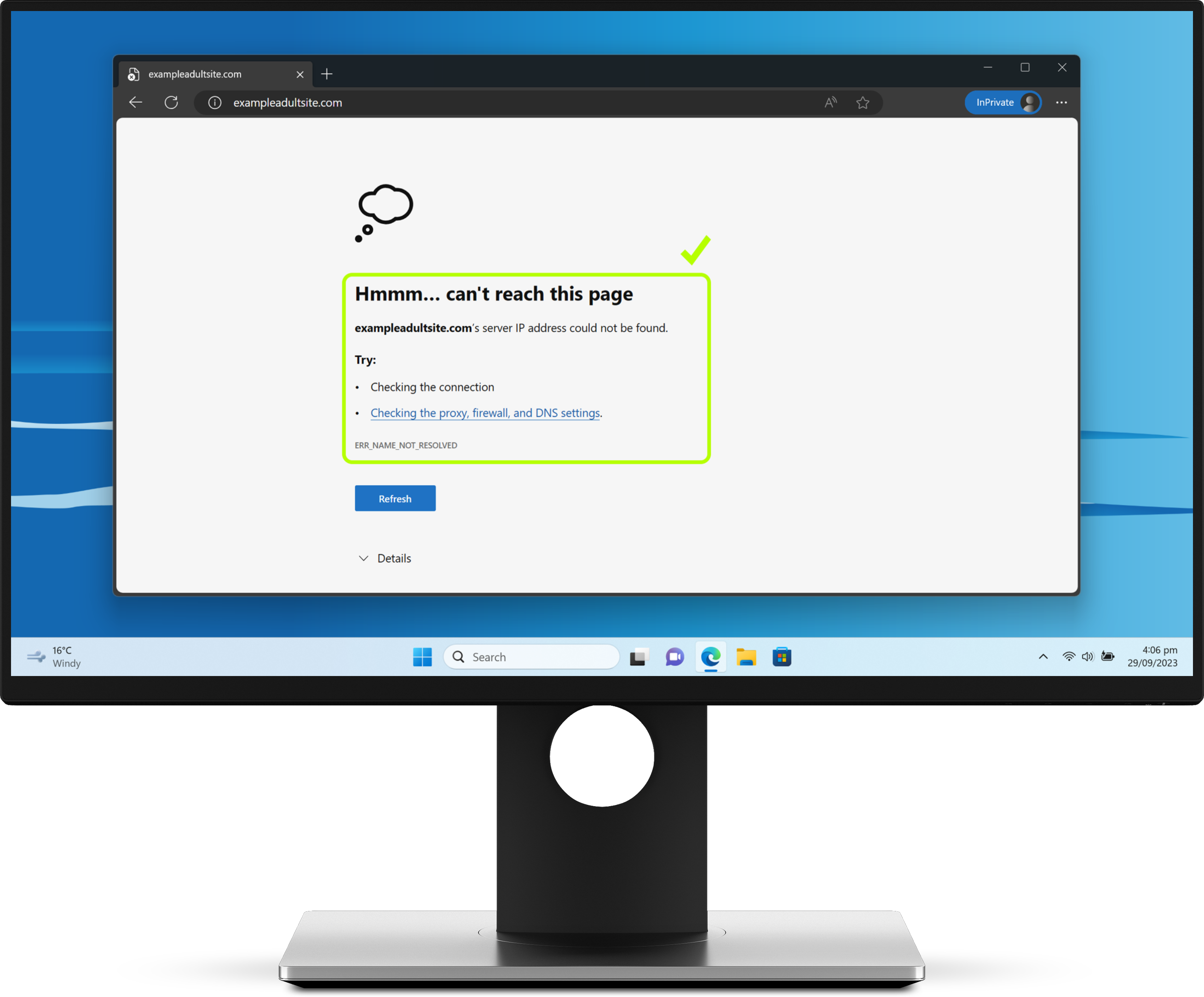 Protection complete
Great work! The devices connected to this home router should now be protected. Visit our easy-to-use online dashboard to start monitoring traffic and blocking content from our premium categories with an affordable Pro Surfer subscription.
All traffic leaving this router from your local network will be under a single device listing. If you would like to protect a different kind of device, visit our Guides page.
Disclaimer: Safe Surfer Limited is in no way associated with MikroTik.